The Last Yandere - Horror Comedy Visual Novel
Comments
Log in with itch.io to leave a comment.
I'm so sorry it has taken me this long to make the last episode but i finally did it.
i want the 'March 29th 2018' version!! >:)
love it!!! keep it up :))
Sorry it took so long but i went back to play the second chapter i love the art style and its a very short and sweet game also great cliffhangers at the end of chapters keeps me coming back great game.
hahaha thanks for this! i can tell you're enjoying Kara's obviously murderous personality hahaha. Can't wait to show you DERE EVIL EXE!
This game is great i love the anime art style and chapter one was so fun my only complaints is that it's extremely hard to record. I normally use Nvidia but for this i had to use fraps. apart from that i love this game so far.
I just played your game. I enjoyed it.The twist in the true ending was amazing. Great job.How many endings does the game have? I got the bad one and the true one.

So I finally got around to playing this after beating DERE.EXE first; and it totally lived up to the expectations. I did it in three parts so expect more comments throughout the day!! Anywho, this was amazing. Definitely one of the better visual novels that I've played. Had a lot of classic Yandere stuff in here, and the art was awesome. It made me laugh, it almost made me cry and it was an amazing explanation to DERE.EXE. I'll be playing Sorority Rites next and I can't wait! Thanks so much for making this series!!!!
I can't play the game because I use a Mac. I'm disliking the game and I want a mac version so I can film it and see the story!
"March 29, 2018" Well, where is it?
'The Last Yandere: Secret Chapters' is a New Web Comic Yandere Fans Will Love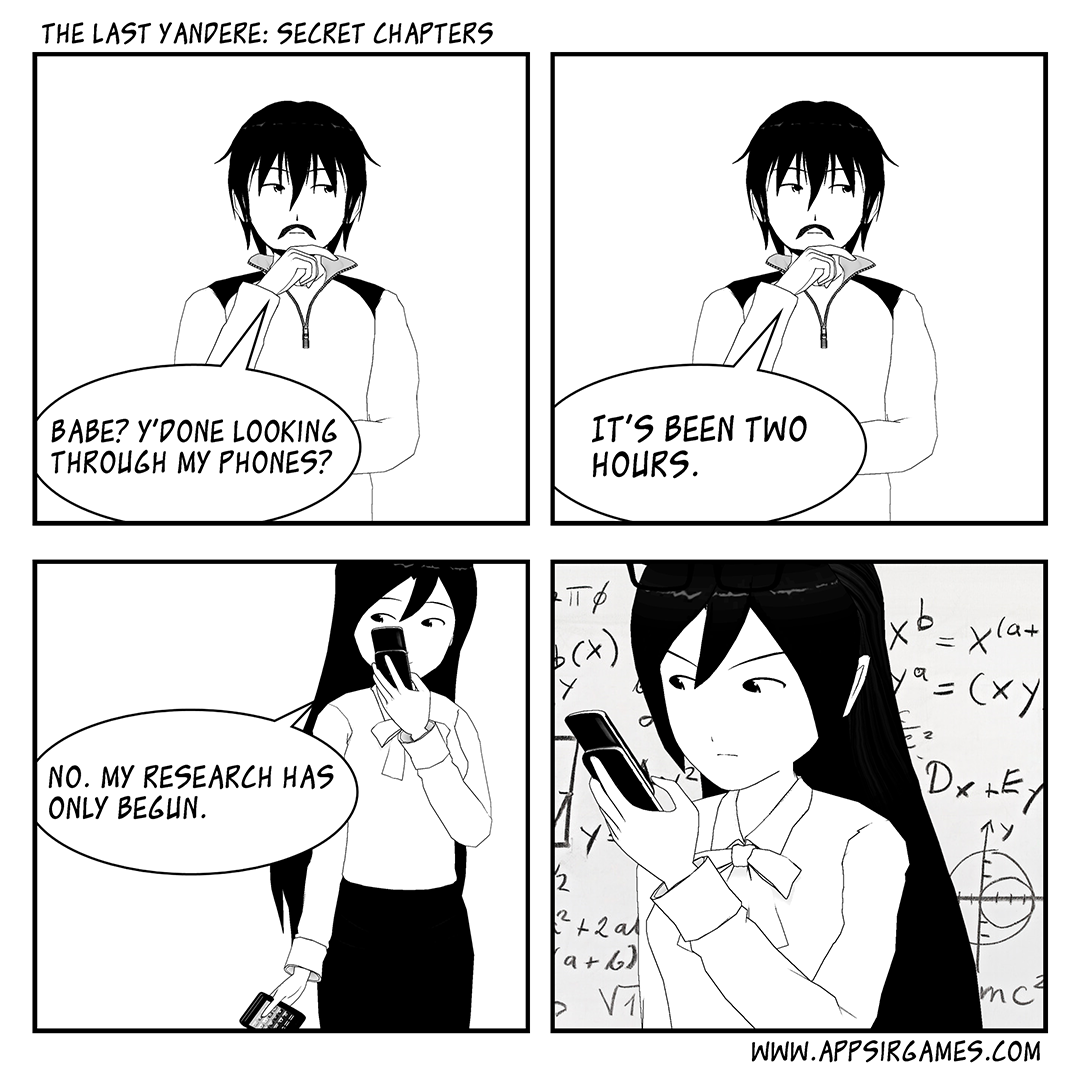 While fans wait for the sequel to the visual novel game 'The Last Yandere', fans can get a taste of Kara Gentner's adventures in a web comic that takes place after the events of the upcoming sequel.
The web comic tells the story about Kara and her eagerness to keep protag-kun to herself. In 'The Last Yandere: Secret Chapters', readers will witness the comedic and action-packed moments of Kara's life after the events of the two visual novels.
The web comic will be posted regularly on AppSir, Inc.'s instagram: https://www.instagram.com/appsirgames/